All-English Precious Rosary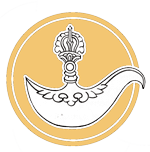 The companion volume to the full Tibetan / transliteration /translation of the Rinchen Trengwa  is formatted and re-edited to reflect, as close as possible, the poetry and structure of the original ritual text.
This beautiful volume has 160 color coded pages, a section numbering system, 40 black & white vintage woodblock prints and seven full color images. It is designed for a flowing read that fosters an appreciation of the depth of meaning and inherent power of MaChik's original tradition.
The Portable Chöd
Durable and compact, this handy text can be used to perform the entire ritual, or any part may be used for practice or study. It is a veritable "Chopa's Bible" that can be used for inspiration, meditation or an enhanced connection to the illuminated lineage of Cutting Through to Freedom.
1. HARD COVER: full color, stamped and numbered in half-page format (5.5 x 8.5) — $35 via the author.
2. SOFT-COVER: full color format as above — $30 On Amazon.
---